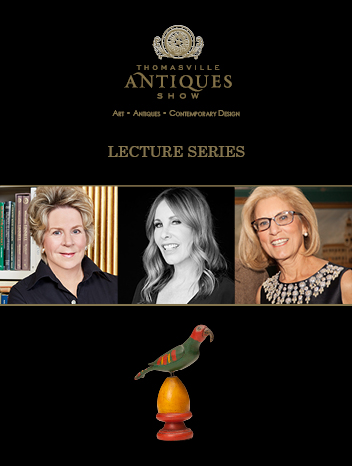 Thomasville Antiques Show Lecture Series
Feb 28—29, 2020

Sponsored by ADAC
From pied-à-terres in Paris to haciendas in the Hollywood Hills, the lectures at this year's Thomasville Antiques Show will illuminate the art of sophisticated living on all scales.
Design icon Bunny Williams will expound on her new book, Love Affairs with Houses, and her impeccable reputation for balancing refined beauty with welcoming, livable appeal. Bunny's own houses and her long career have provided ample material and inspiration for six books to date, and she is a sought-after speaker and mentor on design, decoration, gardening, and entertaining.
Madeline Stuart will discuss her first publication, No Place Like Home, and her classic yet fresh California style, mixing Hollywood glamour with an emphasis on history and craftsmanship.  Having grown up in Los Angeles with a director father, Madeline developed a keen eye for scale and proportion, and feels as comfortable designing for Beverly Hills estates as she does for Manhattan townhouses and Montana retreats.
Barbara Gordon, notable Folk Art collector and board member of the American Folk Museum in New York, will be discussing her recent book, A Shared Legacy: Folk Art in America, which offers a stunning presentation of American Folk Art made primarily in rural areas of New England, the Midwest, and the South between 1800 and 1920. Barbara is a leading expert on folk art and is the owner of one of the nation's most recognized collections.
The Fairgrounds
2057 Georgia Highway 122
Thomasville, Georgia