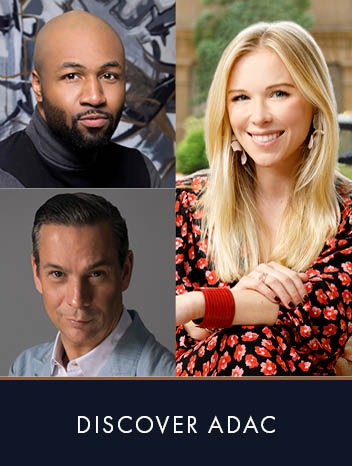 Romanticizing Interiors with Fashion
Sep 21, 2021
3:00 pm
Keynote Presentation
Sponsored by Modern Luxury Interiors Atlanta, The Atlantan, and Theodore Alexander
Caroline Perrott, Editor-in-Chief of Modern Luxury Interiors Atlanta and The Atlantan, sits down for a conversation with Modern Luxury's Creative Director, VP of Fashion, tastemaker, bon vivant, and curator of all things chic, James Aguiar. Joining in on the discussion is interior designer and HGTV alum Justin Q. Williams. The pair explore how interiors borrow, share and inspire this season's fashions, and the two respective world's symbiotic relationship. Using images from past Modern Luxury photoshoots as an example, Aguiar, with William's input, will provide behind-the-scenes commentary on how interiors often inspire fashion direction. A special guest student from the Fashion Institute of Atlanta will also join to create a tangible installation using Theodore Alexander fabrics to create a fall fashion look.
ADAC Presentation Room | First Floor Atrium
Please join James Aguiar, Justin Q. Williams, and Modern Luxury Interiors, and The Atlantan's Caroline Perrott at the Theodore Alexander showroom following the panel discussion. While in the showroom, be sure to check out their newest collections.
Theodore Alexander | Suite 402