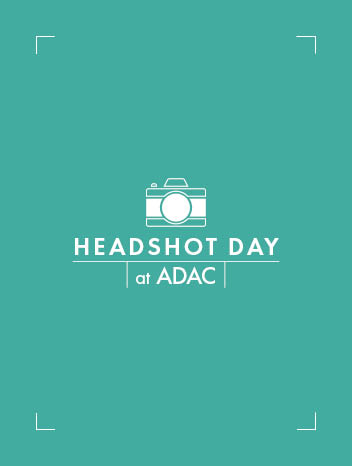 Headshot Day at ADAC
Oct 1, 2021

Headshot Day at ADAC is back by popular demand! A picture is worth a thousand words and this is the perfect opportunity to make sure your headshot says all of the right things about you.
Your $185, the 40-minutes session includes:
20 minutes with a professional makeup artist to make you photo-ready
A 20-minute session with professional photographer Catrina Maxwell
Four image files in high resolution with unlimited usage
Black or White Backdrop and One Optional Showroom Vignette Backdrop
Additional headshots are available for purchase at $45 each
*A non-refundable deposit of $115 will be collected when you book the time slot that is best for you. The remaining $70 will be due the day of the shoot.
Catrina Maxwell | Portraits
http://www.catmaxphotography.com/#/corporateportraits/
To Register: https://app.acuityscheduling.com/schedule.php?owner=14918832&appointmentType=5235900

About the photographer:
Catrina Maxwell is a freelance photographer and native of Atlanta, Georgia. Her work includes corporate headshots, interiors, and architecture. Her work can be seen in Atlanta magazine, Modern Luxury magazine, Style Blueprint, and many more. Over the past ten years, Catrina has worked with local designers and celebrities! She has paid close attention to her clients and fine-tuned her process to make it easy and stress-free for everyone involved. She enjoys creating personal relationships with her clients which shows in her work. What sets her apart from other photographers is her main goal of making sure her clients are happy with the finished product. Honesty, dependability, and hard work are what CatMax Photography is all about.
ADAC Event Space, Suite 421