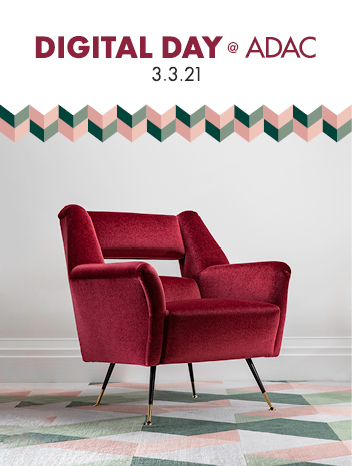 Digital Day at ADAC
Mar 3, 2021
10:00 am—3:30 pm
In the wake of a global pandemic, we have a newfound appreciation for the ways in which technology has kept us together, and we are excited to share that Digital Day at ADAC is going virtual this year. As innovation in the digital landscape has made it possible to stay connected and provided opportunities to grow our businesses in ways we never imagined, we welcome you to join us for a day of presentations on the hottest technology topics currently impacting the world of design. The day will cover a series of riveting sessions including everything you need to know about social media etiquette, tips on growing your design business with digital tools, the impact of social media influencers on our industry, and more. Digital Day at ADAC is a forum for novices and experts alike to learn and share ideas, so designers and the design industry can evolve and thrive in the new digital environment.
10 – 11 AM
Design Influencer Marketing: Revelations in Post Pandemic Era 
Conducting design influencer marketing sensitive to pandemic-driven changes in human nature and lifestyles invited new and specific styles of content creation and engagement. Since the first quarter of 2020, the process of building influence online for business outcomes evolved. Design marketing experts, Mally Skok of Mally Skok Design and Adam Japko of Esteem Media will discuss examples and trends worth knowing to help you optimize your influencer marketing strategies.
Sponsored by ADAC, Atlanta Homes & Lifestyles, and Travis & Company
11:15 AM – 12:15 PM
Finding the Right Fit: Defining Your Brand to Make the Best Impact 
Now more than ever, designers are looking for avenues to increase brand awareness and revenue opportunities. From influencer partnerships to licensing agreements, the digital space has opened new doors. And with the pandemic leading to more virtual engagements, designers must define an online presence that is authentic. In this panel, moderated by designer Joy Moyler, Beth Holman President of Zoffany USA and Michael Cohen of Samuel & Sons share how to find your authentic-self digitally and how to translate that into new opportunities in 2021.
Sponsored by ADAC, Ainsworth-Noah, and Jerry Pair
1 – 2 PM
Social Media Etiquette 101 
As the social media landscape continues to evolve, it's more important than ever to incorporate current best practices into your social strategy to build your business and stay top-of-mind. Join industry creatives Lori Paranjape, Owner of Mrs. Paranjape Interior Design in Nashville; Keyanna Bowen, Maryland-based Interiors Photographer and Blogger behind popular design site East + Lane; and Robert Peterson, Atlanta-based Interiors and Architecture Photographer at Rustic White Interiors, for an engaging and educational discussion on social media etiquette moderated by Bobby Bonett, VP, Digital of the SANDOW Design Group. Together they will discuss winning strategies for social media; the do's and don'ts of posting; and how to leverage social media for your brand or business.
Sponsored by ADAC and Luxe Interiors + Design
2:15 – 3:15 PM
Mastering SEO For Your Design Business
As a savvy design business owner, you've undoubtedly invested time and effort into a beautiful website, but if your site is buried in the crowd, does it even exist? Creating a website for your business is just half the battle–if you want to gain new customers, it's important to invest in appearing in search results. Search Engine Optimization (SEO) is all about bringing high-value organic traffic to your site so you can attract the customers you care about. Business of Home's expert instructor, Digital Marketing Specialist Manpreet Kalra, will take the fear and confusion out of SEO, and give you the roadmap for a better Google ranking.
Sponsored by ADAC and Business of Home
Virtual