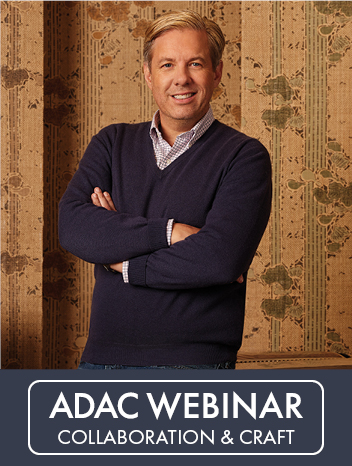 ADAC Webinar: Collaboration & Craft
Apr 30, 2020
11:00 am—12:00 pm
Hosted by Ernest Gaspard & Associates
Presented by Hartmann & Forbes
Some partnerships are simply meant to be. Rebecca Welch, Director of Product Development at Hartmann & Forbes, shares the fascinating story behind the brand's exclusive new collaboration with an American design icon. Hear how Michael S. Smith, one of the most original and respected talents in the design industry today, joined forces with Hartmann & Forbes, a renowned luxury maker of handwoven natural window coverings, wall coverings, and textiles to create a new collection of window and wall coverings that blends Michael's historically referenced patterns in bold, simple colors, with the textural detailing expected from Hartmann & Forbes.
RSVP: sharon@hartmannforbes.com- Please RSVP with your company name, contact, phone number. Webinar link will follow.
NOTE: To register you need to email your name, company name, email address to sharon@hartmannforbes.com. Your event confirmation will be an email with an invitation to the webinar.