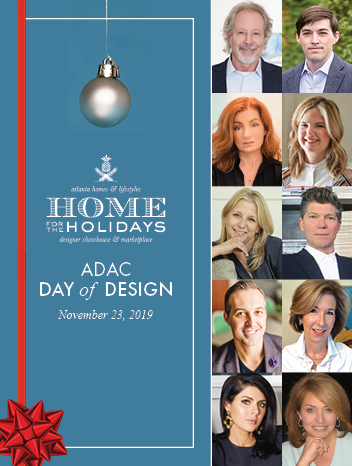 ADAC Day of Design
Nov 23, 2019
10:30 am—2:15 pm
Sponsored by ADAC and AmericasMart
Get ready for a "refreshing" day of entertaining presentations designed to unravel the mysteries of home renovations at the Atlanta Homes & Lifestyles 11th Annual Home for the Holidays! Top design and construction professionals share their top tips for making successful upgrades to projects ranging from whole homes to single spaces. Take a deeper dive into the always-popular topic of kitchen and bath renovations and then, end the day with a look at the finishing touches that designers use to update rooms with signature style.
10:30 AM – 11:15 AM
The Big Picture
with William H. (Bill) Harrison, Frank Heery and Andrea Bain
moderated by Elizabeth Ralls, Editor in Chief of Atlanta Homes & Lifestyles
We have all heard the proverb, "a journey of a thousand miles begins with a single step," and when you are renovating, you need to make sure you are starting that journey off on the right foot! Join in a conversation with Atlanta Homes & Lifestyles' Editor in Chief, Elizabeth Ralls, and the showhouse architectural design team of William H. (Bill) Harrison and Frank Heery, both of Harrison Design, along with developer Andrea Bain of The O'Donnell Group, as they reveal the best practices for approaching renovation projects—of all sizes. Discover which contractors need to be involved in the process, and when. Learn how to develop a proper budget, and ultimately, gain an understanding of the most common renovation pitfalls—and how to avoid them.
11:30 AM – 12:15 PM
The Ever-Changing World of Kitchens and Baths
with Tish Mills Kirk and Randy O'Neil
With never-ending possibilities of product, and ever-evolving trends, how do you stay ahead of the curve? Join Tish Mills Kirk of Tish Mills Interior Design and Randy O'Neil of Renaissance Tile & Bath as they explore do's and don'ts in kitchen and bath design. Their lively discussion will touch on classic mainstays of design, trends they can't wait to fade into the distance, and of course, funny and unexpected tales that occur during the process of creating a great design.
1:30 PM – 2:15 PM
Finishing Touching for Signature Style
with James Wheeler, Jena Salmon and Anna Braund
moderated by Suzanna Hamilton
Transforming a home can be as extensive as a full renovation, or as simple as enhancing the existing space to create updated and refined interiors. Join designers James Wheeler, Jena Salmon, and Anna Braund as they reveal resourceful ways to complement and strengthen existing room designs. Suzanna Hamilton will moderate this panel of experts as they discuss approachable architectural and finish changes as well as aesthetic design recommendations that will give you insight and enthusiasm for your next home renovation.
All presentations are free with showhouse admission
Home for the Holidays Showhouse
4825 Woodvale Dr. NW
Atlanta, GA, 30327