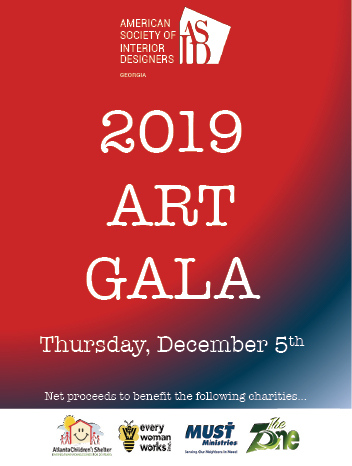 2019 ASID GA Art Gala
Dec 5, 2019
6:00 pm—9:00 pm
"BEYOND PROVENANCE…the beginning of something's existence"
"NEW PROVENANCE…resonating history and romance that gives intrinsic value to work beyond the subject matter or medium."
ASID GA invites you to celebrate a rare opportunity to collect art that originates from often-unseen visions. These artists have bucked the system, saying Provenance starts NOW! See me!
A collection of original works have been created from collaborative experiences with local artists are for sale during this one night only.
Net proceeds to benefit the following charities Atlanta Children's Shelter, Elizabeth Inn, Every Woman Works Inc., and The Zone
PRIVATE PREVIEW PARTY | 4PM – 6PM
Sponsors and VIP ticket holders are invited to an exclusive Collector Preview Tour
with a special guest to preview the auction artwork and meet exhibiting artists.
SILENT ART AUCTION | 6PM – 9PM
Find your favorite auction pieces, start your bidding, and enjoy hors d'oeuvres,
cocktails, psychic readings, and music specially curated for this inspiring evening.
AUCTION ARTISTS
JC Pino + Janet Armstrong + Victoria Jackson + Aziz Kadmiri + Akshar Choudree + Alexandra Nechita + Donna Boudakian + Veronica Karstens + Jennifer Ferris + Meredith Ochoa + Bobby Moonan + Maryam Askaran + Kim Daniel + Carole Drobes + Martha Kaplan + Linda Medd + Lorra Kurtz + Shelly Deriso + April Riley + Ali Leja + Jenny Schultz + Charlotte McDonnell + Jane Gibout + Tracy Burke + Toni Delong + Beverly Poitier-Henderson + Mary M Corbitt + Elya DeChino + Wayne Kemp + Melissa Hagerty
If you'd like to be a Sponsor of the event click here
ADAC Event Space, Suite 419