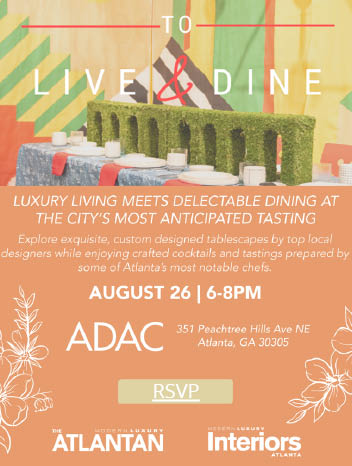 2021 To Live & Dine
Aug 26, 2021
6:00 pm—8:00 pm
Sponsored by ADAC and Sherwin Williams
Presented by Modern Luxury Interiors Atlanta and The Atlantan
Join ADAC, Modern Luxury Interiors Atlanta, The Atlantan, and Sherwin Williams for a boutique tour of ten lavish, custom-designed tablescapes by top Atlanta interior designers. Sip on a signature cocktail crafted by The Aerobar with spirits from Legends, Georgia's Award-Winning Distillery, while you enjoy distinct perspectives on luxury lifestyles and upscale entertaining – all of which will enhance your next family gathering or dinner party. Learn more about these talented designers virtually through ADAC and Modern Luxury's lens.
GET TO KNOW THE DESIGNERS
Ashley Miller | Ashley Miller Design
Beth Brown | Beth Brown Interiors
Bowdre Longo | Bowdre Longo Interiors
Lia Shin & Yoomi Harrison |  C  +  H   I N T E R I O R S
Katja Lauterbach | Duett Design
Sharon Falcher & Sherica Maynard | INTERIOR DESIGN BY S&S
Janie Wilburn | Jane Group Inc
Justin Q. Williams | Tradmark Design Co
Kit Castaldo | Kit Castaldo Design
Kristan Moore | Kristan & Co.
ADAC Event Space, Suite 421