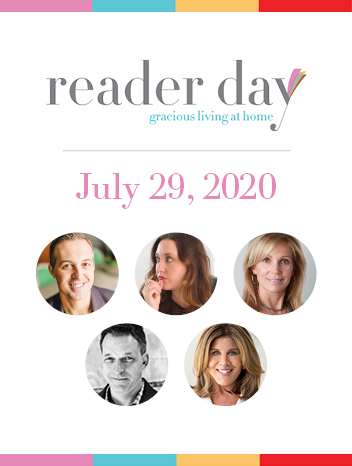 Virtual Reader Day Gracious Living at Home
Jul 29, 2020
All Day
Hosted by Atlanta Homes & Lifestyles
VIRTUAL EVENT
At a time when our homes and our neighborhoods inform our habits, our thoughts and actions, it's more important than ever to create functional but stylish spaces for refuge, for work, for play, and for gathering. From cultivating peaceful retreats to harnessing the power of nature in your outdoor spaces, Atlanta Homes & Lifestyles presents a compelling series of lifestyle webinars to inspire and guide you.
11:00 AM EST
Creating Refuge at Home Panel Discussion
Sponsored by Renaissance Tile & Bath
When home is an office, a restaurant and a school, how—and where—does one find escape—and a sense of peace? Atlanta Homes & Lifestyles' 2020 Bath of the Year Winners reveal the tricks of the trade that will transform your master bathroom into a Zen-like oasis.
4:00 PM EST
Operation Oasis: Embracing the Power of Nature with Suzanne Kasler  
Sponsored by Julian Chichester
Harnessing the healing powers of nature can prove the ultimate medicine as our backyards become both sanctuary and escape. From driveway dates and social-distancing happy hours—to #WFH by the pool, Atlanta Homes & Lifestyles sits down with Suzanne Kasler, who reveals through her projects, the indoor-outdoor connections that not only foster a sense of community but also wellness and wonder.
Online