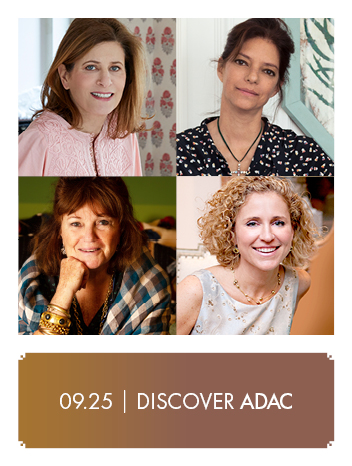 The Seekers of New Design—Near And Far
Sep 25, 2019
10:00 am
Sponsored by MILIEU
The most creative designers today are what might best be referred to as Seekers—independent thinkers who have the ability to make changes in the world of design. Three inspiring and noted design Seekers working now are Lisa Fine, author of the new book, Near & Far: Interiors I Love, Carolina Irving, and Penny Morrison. Like all true Seekers, they travel the world constantly, observe it, and incorporate what they see into their work and products. As MILIEU recognizes its first annual list of Seekers this fall, Leslie Newsom Rascoe, MILIEU's Design Director, will host these visionary designers, exploring in Lisa's new book, their passions, their secrets, and their visions for what they design and make.
ADAC Presentation Room | First Floor Atrium
MILIEU and Travis & Company invite you to a reception following the presentation. While in the showroom, view the latest fabric collections from Penny Morrison, Lisa Fine, and Carolina Irving; and shop Carolina's tabletop Pop-up Shop, as Lisa signs copies of her new book, Near & Far: Interiors I Love.
Travis & Company | Suite 128