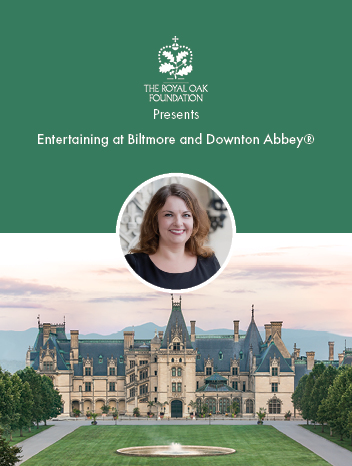 Entertaining at Biltmore and Downton Abbey®
Feb 11, 2020
10:30 am—11:30 am
Presented by The Royal Oak Foundation
Entertaining in a grand fashion was always central to the Vanderbilts and life at the Biltmore House in Asheville, NC during the Gilded Age. This winter, the historic estate, built by George W. Vanderbilt, continues the tradition by hosting Downton Abbey: The Exhibition in celebration of the release of the long-awaited film. Biltmore Curator, Leslie Klingner will describe the many parallels between life at America's largest home and Downton's beloved Highclere, from the breakfast tray delivered to your room, to a scrumptious afternoon tea in the Tapestry Gallery. Drawing from photos, letters, and journals held in the estate's private archives, Leslie will share stories about the fêtes hosted in the 20th-century country house. She will discuss the staff and family's preparations, the fashionable set who attended, the attire, and the amusements enjoyed by all. She will provide a behind-the-scenes look at the interactive exhibition, while comparing entertaining in real life versus on screen, all the while proving that American and English country houses parties were simply sublime.
Reception 10:00 AM and Lecture 10:30 AM
Tickets: $35 members & co-sponsors* | $45 non-members
ADAC Presentation Room, First Floor Atrium
To register: Please visit www.royal-oak.org/events or call Kayla Smith at 212-480-2889, ext. 201. Please use the code ADAC20 to receive the discounted co-sponsor price.