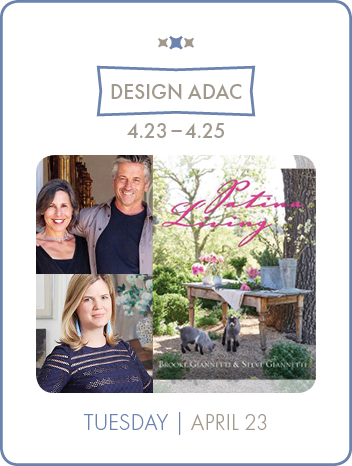 PATINA LIVING: Designing a Life
Apr 23, 2019
10:00 am
Sponsored by Atlanta Homes & Lifestyles
In their third and just-released book, Patina Living, interior decorator, Brooke Giannetti, and her architect husband, Steve Giannetti, invite you inside their Ojai, California oasis where a relaxed, European gentility pervades their dreamy five-acre landscape, both indoors and out. Join Atlanta Homes & Lifestyles Editor in Chief, Elizabeth Ralls, as she talks with the Giannettis about their passion for daily farm living and their enchanting property where bountiful gardens and adorable animals abound. Discover how they live meaningfully—and with joy—through personal stories and more than 200 exclusive images.
ADAC Presentation Room | First Floor Atrium
Following the presentation, Ainsworth-Noah & Associates and Atlanta Homes & Lifestyles invite you to a book signing reception celebrating the Giannettis and their newest book, Patina Living.
Ainsworth-Noah & Associates | Suite 518