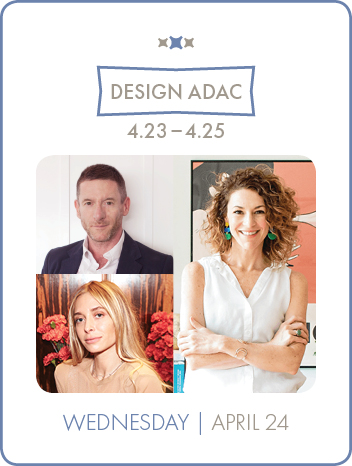 Masters of Design
Apr 24, 2019
1:00 pm
Sponsored by VERANDA
Where do you turn for inspiration? How important is the bespoke factor? When do you make time for diversification, from operating a showroom to creating licensed products? Get the answers to these questions and more in a very special bicoastal tête-à-tête, in which Los Angeles-based designer, Peter Dunham, and New York-based designer, Jessica Schuster, join VERANDA Deputy Editor, Ellen McGauley, to share decorating words of wisdom, business perceptions, and musings on the current state of the design industry gleaned from decades of experience.
ADAC Presentation Room | First Floor Atrium
Come mingle with Peter Dunham, Jessica Schuster, and VERANDA's Ellen McGauley at the JANUS et Cie showroom following their presentation. While in the showroom, preview the Palmia collection from Janice Feldman, inspired by the tropics and imagined through a retro-chic lens.
JANUS et Cie | ADAC West | Suite A1