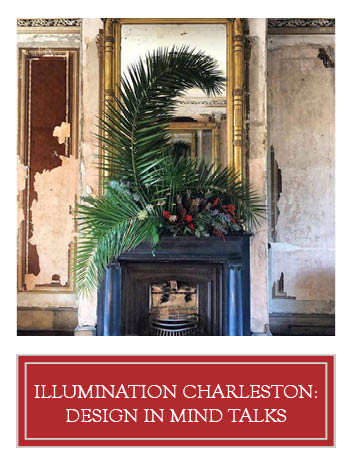 Illumination Charleston: Design in Mind Talks
Dec 3—4, 2021

Presented by Historic Charleston Foundation
Sponsored by ADAC, Kravet Inc., ROMO, Schumacher, Thibaut, Travis and Company
Friday, December 3 at 10 AM | Panel Discussion: Preservation as Inspiration | Join Southern Living Editor-in-Chief, Sid Evans, in a "Preservation as Inspiration" discussion with the designers of the historic homes on tour: Betsy Berry, Ceara Donnelley, Keith Langham, and Jill Sharp Weeks.
Friday, December 3 at 1 PM | Alessandra Branca | Born and raised in Rome, Alessandra has called Chicago home for 30+ years. She acquired her love of classical beauty from her Italian upbringing and those roots still speak to her soul today. She believes living well involves comfort, elegance and a touch of whimsical and she interjects this in her wide spectrum of projects.
Saturday, December 4 at 10 AM | Ashley Whittaker | Described as the "neo-traditionalist," Ashley Whittaker reveals her fresh and modern perspective on traditional design and architecture in all of her work. The New York City decorator offers distinctly classic taste and chic sophistication to residential decoration and interior design.
Saturday, December 4 at 1 PM | India Hicks | Designer, entrepreneur, author, and mother of five, India Hicks was born in London, England. Her father was famed interior decorator David Hicks, and her mother is Lady Pamela Hicks, whose father was the last Viceroy of India. India has often made bold life choices, which have led to a multi-faceted, unexpected life journey. She has authored four design books, modeled for Ralph Lauren, among others, and been an on-air personality for networks ranging from Bravo to the BBC.
Second Presbyterian Church
342 Meeting Street
Charleston, SC 29401
PURCHASE TICKETS