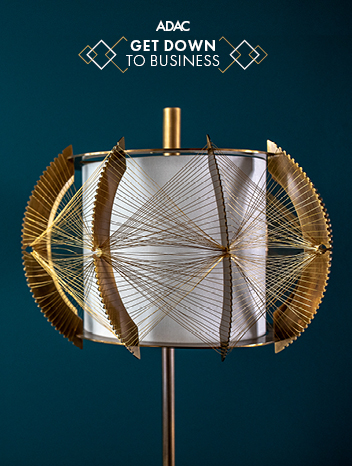 Get Down to Business
Oct 30, 2019
10:00 am—4:00 pm
The only constant is change and this is certainly true when it comes to the business of design. Take a day to reevaluate and reenergize your business during four informative sessions covering topics that are applicable to designers at every level of experience. Explore the brand-building power of personal style as part of your marketing plan. Learn how to share your firm's story most effectively across different channels, including in-person, in print, and on digital platforms. Gain valuable information about the current and future state of the design industry from one of the country's leading authorities. Consider new ways to grow your business as design firm founders share the successes and challenges they faced while taking their own businesses to the next level.
10 – 11 AM
You Are What You Wear: Building Your Brand with Personal Style
Traci Zeller and Whitley Adkins Hamlin
As an interior designer, your personal style is closely tied to your business brand – which means that what you wear says as much about your brand as your logo does. Traci Zeller of Traci Zeller Interiors and Whitley Adkins Hamlin, professional stylist and owner at the Queen City Style, share how you can curate a unique style that sends strategic, well-crafted messages about your brand, regardless of trends on the runway. You'll leave this discussion with actionable steps, practical tips, and a bevy of "stylist's guide" resources at every budget level to help you align your wardrobe with your brand to create on-brand outfits for client meetings, site visits, showroom appointments, headshots and events.
11:15 AM – 12:15 PM
Turning Content into Storytelling
Susanna Salk and Stacey Bewkes
moderated by Beth Dempsey
Do clients engage with your brand? Discover how to transform your brand's message into a unique point of view. Learn how to tell your story in a way that enables audiences to connect with you. Find out what not only what makes a great story but how to tell it through visual imagery and content messaging. Adapt that content to the various platforms from print and digital publications to video. Join in this lively discussion with bestselling design author and host of the Quintessence video series, Susanna Salk, Stacey Bewkes, founder of the Quintessence Lifestyle Blog and video series, and moderator Beth Dempsey, of Images & Details, a provider of marketing, branding, and public relations for luxury design businesses.
1 – 2 PM
Interior Design Outlook for 2019 and Beyond
Kristin Kong
Hosted by ASID
Kristin Kong, owner of K. Kong Designs and the Immediate Past President of the Georgia Chapter of The American Society of Interior Designers (ASID), shares findings from the ASID's 2019 Outlook and State of Interior Design Survey. Understand of important key economic indicators and their implications for the future of the industry. Examine top industry trends and disruptors at the macro-level and their impact on the future of the profession. Gain insights from interior design thought leaders on what they are observing in practice and what to expect moving forward so you can respond to coming changes and flourish!
2:15 – 3:15 PM
Game Changing Growth
Mark Williams, Susan Bozeman, Joel Kelly
with Amy Flurry
Behind every successful design firm, there are key defining moments that propelled the company to a new stage of growth. How did they recognize the potential in that moment? What steps do leading designers take before making those big decisions and what kind of follow-through did it take to implement? Amy Flurry, author of Recipe for Press: Designer Edition, will facilitate a discussion with Mark Williams Design Associates; Susan Bozeman of Susan Bozeman Designs; and Joel Kelly of Joel Kelly Design and Wyeth Ray Interiors; about business decisions and challenges that laid the course for greater growth. Who opened their eyes to new ways of thinking in order to make "next level" decisions? What do they wish they had known at that time? What areas do they see as the most promising paths for further growth in design? Learn from their experience and discover new potential to grow in a way that is sustainable and authentic to your brand.
ADAC Presentation Room, First Floor Atrium