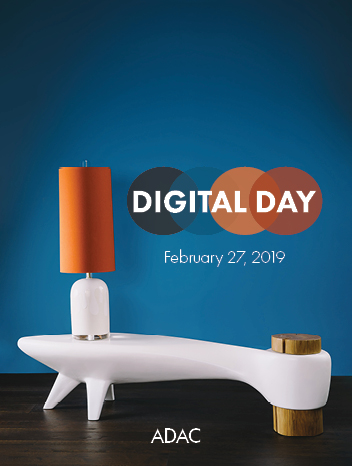 Digital Day at ADAC
Feb 27, 2019
9:00 am—5:00 pm
Digital Day at ADAC is back this year with a day of presentations covering the hottest technology topics currently impacting the world of design. The day begins with a look at the burgeoning legal issues surrounding hashtags and covers how you can protect yourself and your brand as this gray area of the law becomes more black and white. Then, if you have ever endorsed or wanted to endorse a product you love, listen in as an all-star panel of designers share tips for how you can be an effective brand ambassador while being true to your voice. Leaders of the Decorative Furnishings Association kick-off the afternoon with findings from industry research about today's most powerful Digital Disruptors and how they will change the future of the design industry. The day concludes with a panel discussion with designers who are effectively tackling the online retail invasion and winning clients who understand the value of design services in a world of immediate access. Crafted in partnership with the Design Influencers Conference, Digital Day at ADAC is a forum for novices and experts alike to learn and share ideas so designers and the design industry can evolve and thrive in the new digital environment.
9:30 – 10:30 AM
Hey, That's My Hashtag 
Angie Avard Turner, Angie Avard Turner Law, LLC
One of the hottest legal topics for the design industry is how hashtags, once used primarily as search tools, are now becoming an important part of branding. This is an emerging area of the law for the creative community as hashtags become more like intellectual property rather than a search tool. Attorney Angie Turner guides you through how to protect your hashtags….and how not to infringe using another's hashtags.
ADAC Presentation Room, First Floor Atrium
10:45 – 11:45 AM
Being an Authentic Brand Ambassador
Julia Buckingham, Lisa Mende, and Mikel Welch
Moderated by Adam Japko, founder of the Design Influencers Conference
Building a brand is an art that takes constant discipline to ensure that the message is consistent and offers a unique point of view. What happens when your brand's influence becomes a marketable commodity and other brands want you to align with you? With whom should you align? How do you endorse a brand without diluting or losing your own authentic voice?  Listen in as designer panelists who have faced these same questions share their insights into the tremendous world of opportunities and the potential pitfalls of becoming a brand ambassador.
ADAC Presentation Room, First Floor Atrium
NOON – 1:00 PM
Networking Luncheon
Continue the discussion with colleagues and speakers over lunch in the Fabricut showroom.  While there, be sure to see Fabricut's new furniture collection that has been making headlines since its recent introduction.
Fabricut, Suite 307
1:15 – 2:15 PM
Digital Disruption to the Trade
Eric Chang and Jobi Blachy
In 2018, the Decorative Furnishings Association (DFA) held a series of nationwide taskforce meetings with top level designers, showrooms, manufacturers, media, and design centers to discuss current changes in the industry and their impact on the future of the trade. Join DFA President and Hellman-Chang Co-Founder Eric Chang, and DFA Vice President and Quintus CEO, Jobi Blachy, as they present the revolutionary shifts that are on the horizon including transparency in pricing, new technologies for sourcing, and changes in luxury consumer behaviors.
ADAC Presentation Room, First Floor Atrium
2:30 – 3:30 PM
Solutions to the Online & Retail Invasion
Nicole Baxter, Jessica Bradley, James Wheeler
Moderated by Mike Peterson, Vision Marketing
The online and retail invasion is real and it is here to stay. This candid conversation explores how three designers are navigating this new world where multiple product sources are available to all of our clients. We know that online product offerings and retail sellers who pose as designers do not provide the "value" offered by interior designers, but how do we convey that to the end user? Join in a thought-provoking discussion with designers about the many value propositions the trade can and should be offering clients and come away with specific actions steps to combat the invasion and grow your business.
ADAC Presentation Room, First Floor Atrium
3:30 PM
Cocktail Reception at Paul+
Raise a glass to the close of Digital Day at ADAC with cocktails and conversation at Paul+ as you preview the latest furniture collection from Quintus.
Paul+, Suite 121