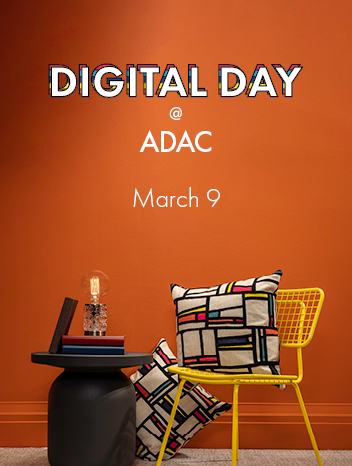 Digital Day at ADAC
Mar 9, 2022
10:00 am—3:30 pm
In a world where we have constantly connected through ever-evolving advances in technology, we welcome you to join us at ADAC for a day of presentations on the hottest innovations currently impacting the world of design. Explore the current digital landscape and learn about new opportunities to grow your businesses in ways you never imagined. The day will cover a series of engaging sessions including everything you need to know about the current state of digital marketing and design influencers, the top social media trends for 2022, the best ways to digitally source art for your clients, and how advances in lighting technology can illuminate your next project. Digital Day at ADAC is a forum for novices and experts alike to learn and share ideas, so designers and the design industry can evolve and thrive in the new digital environment.
10 – 11 AM
The Dating Game: A Guide to Building Strategic Brand Relationships with Mollie Surratt
Whether you've always dreamed of executing a brand influencer collaboration or you're a seasoned design influencer, this talk will break down what's what regarding pitching brands, how to negotiate compensation, building content packages, and more from the perspective of a leading home influencer agency. Speaker and agency CEO Mollie Surratt will provide real-life examples, actionable takeaways, and the motivation you need to hit the ground running. Get ready to take your branded collaborations to the next level.
Sponsored by Design Influencers Conference  
11:15 AM – 12:15 PM
Demystifying the Art World Through a Suite of Digital Tools with Holly Hollingsworth Phillips and Liz Beaman Delman
Enjoy a conversation between Holly Hollingsworth Phillips of The English Room and Liz Beaman Delman of Above the Sofa about the variety of digital tools available to help navigate the art market. Holly and Liz will share the tools they use to discover the best gallery exhibitions at any given time, how to use online databases to source inspiration for your clients, why digital art fairs are here to stay, and how to source works of art with confidence for your clients using available research tools.
1 – 2 PM
Social Media Trends and Emerging Technologies with Laura Bindloss
The social media landscape has grown enormously since the days of simply posting pretty photos, and now includes everything from user-generated content and influencer partnerships to e-commerce and social activism. For the design industry, social media has become a way to stay connected as a community, promote your business, generate client leads, and even function as an additional revenue stream. But with the multitude of posts flying through our feeds, how can we determine what we should do—and, more importantly, who is already doing it well?  Laura Bindloss is the founder of Nylon Consulting, a PR and social media agency working with both designers and home brands. In this course, Bindloss will present 10 social media trends to watch in 2022, along with data and case studies on key behavior patterns, best practices, and future forecasts. Join her for a conversation that will get the juices flowing for your next social strategy session.
Sponsored by Business of Home
2:15 – 3:15 PM
A Modern Approach to Decorative Lighting with Betsy Berry, Nick Grinder, and Russel Feldman
In today's lighting world, advances in technology continue to present us with new ways to enhance our homes. Navigating these new technologies and incorporating them into our designs can be difficult, but Russel Feldman, Owner of Simply Wired PRO, Betsy Berry, Principal Designer of B. Berry Interiors, and Nick Grinder, Vice President of Sales at Apparatus Studio, will share their expertise on how to navigate through some of the technical aspects of LED lighting, including light output (lumens), color (CRI >80), color temperature (Kelvin), and driver selection. In addition, the panel will share some of their favorite techniques for incorporating decorative and architectural LED fixtures.
Sponsored by R HUGHES and Simply Wired