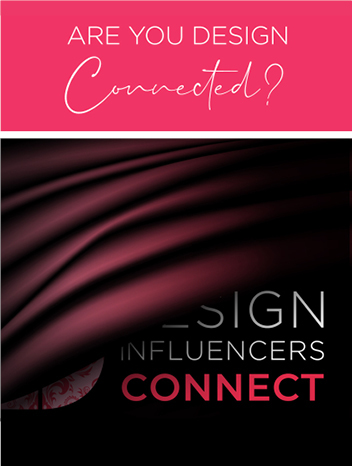 DI CONNECT April
Apr 5—6, 2021
2:00 pm—5:00 pm
Presented by Design Influencers Conference and Esteem Media
The luxury design industry's influencer marketing, creator, and social media community will have the chance to connect, get timely information on the pandemic's lasting impact on building influence for business outcomes, and instigate collaborations between brands and design professionals during the second installment of Design Influencers CONNECT 2021, produced by the organizers of the Design Influencers Conference.
Attendees raved about the kickoff event in March, and DIConnect is bringing keynote speakers Larry Peltz and Rachael Bozsik to discuss Interior Design in the Pandemic: Dancing with Uncertainty, Doubt, and Fear and Five Steps to Building a Money Generating Personal Brand respectively for their highly anticipated April event.
DIConnect offers free registration for design professionals representing brands, showrooms, market centers, and media in the luxury home design industry. This new digital version is the online broadcast series built with the same ROI delivery that attendees who come to the Design Influencers Conference want to learn and achieve. Themes for the upcoming two digital events will feature:
April 5-6: You and Your Brand
May 3-4:  Skills and Platforms
Join DIConnect and participate in the lasting benefits of being part of a founding community of something special added to the luxury design industry's landscape and calendar. On April 5, Larry Peltz and Rachael Bozsik will present on the main stage. On April 6, Monogram, Crypton, Universal, and Jaipur Living are among the premier presenting Sponsors who will share their goals, strategies, and tactics when working with influencers.
Virtual