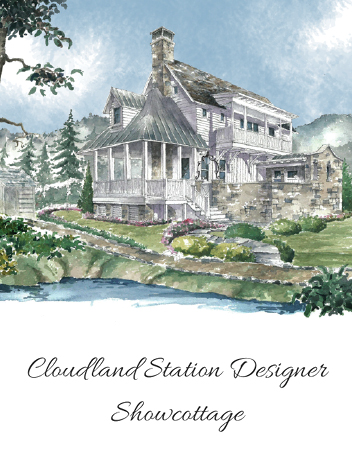 Cloudland Station Designer Showcottage
Jul 23, 2021—Aug 7, 2021

Presented by Atlanta Homes & Lifestyles
Sponsored by ADAC
We are pleased to announce the first Cloudland Station Designer Showcottage, presented by Atlanta Homes & Lifestyles Magazine. The Mountain Laurel is the first of six homes planned in this newest neighborhood – The Courtyards at Mill Creek. The design is a collaboration between Cloudland Station developer John Tatum and architectural designer Coleman Mills with Harrison Design.
The Mountain Laurel cottage features 1620 sq. ft. of indoor living space, and an additional 695 sq. ft. of outdoor living space. The home has three bedrooms and two bathrooms, with a lofted room for additional sleeping space.
Architectural highlights include a loft space that takes advantage of the tall ceilings; an outdoor courtyard with a kitchen, shower, and gathering area; and a front porch that opens to the greenway and creek.
Dates & Time:
July 30, July 31, & August 1 and August 6, 7, & 8
Friday | 4 – 7 PM
Saturday | 12 – 7 PM
Sunday | 1 – 5 PM
Chickamauga, GA