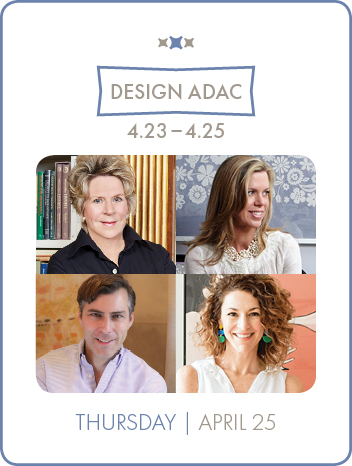 Celebrating A Return to Pretty
Apr 25, 2019
1:00 pm
Sponsored by VERANDA
Wallpaper and ruffles and fringe, oh my! More-is-more decorating, with an emphasis on lots (and lots!) of layers, details, and finishes, is back and prettier than ever. Join New York-based designers, Bunny Williams and Ashley Whittaker; Lexington, Kentucky-based designer, Matthew Carter; and VERANDA Deputy Editor, Ellen McGauley, for insights into how to stylishly navigate the preeminent style commanding today's decorating landscape.
ADAC Presentation Room | First Floor Atrium
Please join Bunny Williams, Ashley Whittaker, Matthew Carter, and VERANDA's Ellen McGauley at the Jim Thompson showroom following the afternoon panel discussion. Copies of Bunny's new book, Love Affairs with Houses, will be available for signing. While in the showroom, be sure to visit with Jim Thompson's newest partners Studio Zen and Serip Lighting.
Jim Thompson | Suite 304