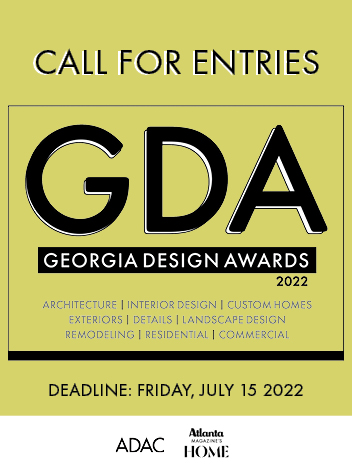 Call for Entries: Georgia Design Awards 2022
Jul 15, 2022

Sponsored by ADAC
Atlanta Magazine's HOME and Atlanta magazine are pleased to introduce the
Georgia Design Awards. These awards are the first of their kind—bringing
together all segments of the design, architecture, and construction
communities to showcase the best work and brightest talent across
the state of Georgia. The program is also the first to involve both the trade and
consumers. Leveraging the full audiences of both our magazines, along with
the extensive reach of atlantamagazine.com, the winning designs will be
showcased in front of the largest audience of design enthusiasts throughout
the state.
The Georgia Design Awards will span the categories of architecture, interior
design, homebuilding, remodeling, and landscape design—both residential
and commercial. Entrants must be based in Georgia and will have the
opportunity to submit projects ranging from a single room or product
installation to an entire home or public space. Submissions will be accepted
May 11, 2022 through July 15, 2022. Entries will be judged by an
independent panel of judges from outside of Georgia. Winners will be
announced at a Black-Tie Gala on December 1, 2022. Award-winning entries
will be featured in the winter edition of Atlanta Magazine's HOME.
SUBMIT HERE www.GeorgiaDesignAwards.com