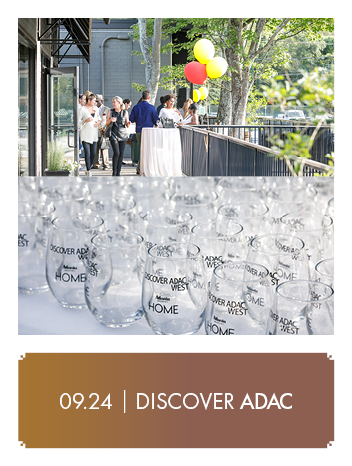 ADAC West Sip & Stroll
Sep 24, 2019
5:30 pm
Sponsored by Atlanta Magazine's HOME and Atlanta Magazine
There is nothing quite like the community of showrooms, commercial and residential designers, architects, framers, artisans, and chefs that make up the creative enclave of ADAC West. Back by popular demand, for a third year in a row, the ADAC West Sip and Stroll is the ideal way to connect with the people and products that make up one of the Southeast's most unique design resources. Celebrate the finale of the first day of DISCOVER ADAC as you sip delicious cocktails and stroll with friends and colleagues new and old.
ADAC West
Suite A1, JANUS et Cie
Suite A6, Peacock Alley
Suite A7, Electronic Home
Suite B2, Context Gallery
Suite B2B, Bell Cabinetry & Design
B5A, Matthew Quinn Collection
Suite C3B, Renaissance Tile & Bath
Suite C4B | Brooks & Black Fine Framing, Inc.