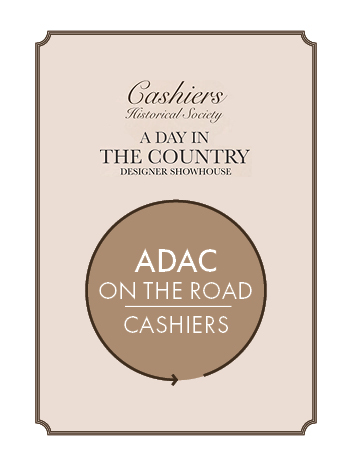 ADAC on the Road: Cashiers
Jul 30, 2019
8:00 am—6:30 pm
Sponsored by ADAC, Innovations, STARK, Theodore Alexander, and Travis and Company
Feed your soul with a change of scenery! Designers and their clients are invited to join ADAC for a day in the mountains as we tour the 2019 Cashiers Designer Showhouse. Back by popular demand, our group will once again dine on the veranda of the exclusive Cedar Creek Racquet Club before heading over to the showhouse grounds for a full afternoon of fun. There is so much to do, from touring this year's charming mountain home, to shopping for new treasures among the many artisans and boutiques at the on-site market, to enjoying a special design discussion hosted by Eric Ross of Eric Ross Interiors. Our luxury shuttle eliminates the hassle of driving, so you can relax, rejuvenate, and even enjoy some prosecco along the way!
Itinerary
8:00 AM Breakfast and Registration at ADAC
ADAC First Floor Atrium
11:30 AM Luncheon
Cedar Creek Racquet Club, Cashiers, North Carolina
1:00 PM Tour of the 2019 Cashiers Designer Showhouse, Shop, and Enjoy a Design Discussion with Eric Ross of Eric Ross Interiors
6:30 PM Arrive at ADAC
Tickets:
Tickets are $60 per person for both the tour and the luncheon.
Cancellations must be made by Monday, July 22 at 5:00 PM EST in order to receive a refund.
This tour is intended for designers and their clients. Due to the space limitations, ADAC is unable to accommodate outside vendors and manufacturers on the shuttle.
ADAC, First Floor Atrium