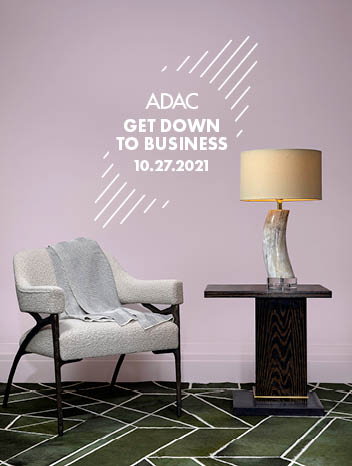 Get Down to Business
Oct 27, 2021
10:00 am—4:00 pm
Sponsored by ADAC, BOH, and Charlotte Home Design and Decor
Hosted by Kravet and Made Goods
TRADE ONLY
Take a day to recharge your mind and refresh your business during four informative sessions covering topics that are applicable to designers at every level of experience. Explore various paths to success in the design industry. Learn what it takes to publish a design book, from inception to print. Consider new ways to grow your business through partnerships that are the best fit for you. Gain valuable information about what workrooms want you to know, so you can deliver the best products to your clients and bring your businesses to the next level.
10 – 11 AM | Building Your Path to Success with Chris Goddard and Dennese Guadeloupe Rojas moderated by Savannah Amerson
The design industry is infamous for its lack of a consistent business model or strategy. This can be both a source of confusion for designers and their clients (what is the right way to structure my business? What exactly is involved with hiring a designer and how much does it cost?) but also a great opportunity for entrepreneurship and diversity.  Our panelists have both built unique and very successful businesses but in quite different ways.
11:15 AM – 12:15 PM | So You Want To Publish a Design Book with Jill Cohen
Have you ever wondered how designers get their books published? What do book publishers require from the authors, and what do you need to obtain a deal? Furthermore, what does it actually cost to publish a book, and what can you expect as a return on your investment? Jill Cohen, whose agency has produced and packaged some of the design world's bestselling and most beautiful coffee table tomes, will share an insider's perspective on the ins and outs of the book publishing industry today.
1 – 2 PM | Making Partner with Forbes Masters and Wyeth Ray Interiors moderated by Ashley Hotham Cox
What does a partnership look like? What are the various ways to make a partnership work? There isn't one path for everyone. And while different trajectories can take you to the same destination, it's those journeys' tales that inform the ones coming up the ranks how to navigate their way. Not all business models are alike, so how do you decide what's right for you? Tavia Forbes and Monet Masters of Forbes Masters and Joel Kelly and Whitney Ray of Wyeth Ray Interiors are here to share their stories of joining forces. Delve into an engaging and intimate conversation moderated by Ashley Hotham Cox, editor-in-chief of Charlotte Home Design & Decor, about ways to build your business through partnership and how to find your way when it's time to spread your wings.
2:15 – 3:15 PM | What Your Workroom Wishes You Knew with Grant Trick, Tracie Bresnahan, and Christy Davis moderated by LuAnn Nigara
You want the best for your clients and relationships with trusted vendors and trades are a critical aspect to delivering the best to your clients. Do you know what information and communication your workroom needs from you in order to deliver their best to you? Join LuAnn Nigara as she moderates a panel of workroom professionals including Grant Trick of Design Industry by Grant Trick, Tracie Bresnahan of Custom Creations, and designer Christy Davis of Christy Davis Interiors, uncovering the key tactics you must know for efficiency and harmony when working with your workroom.
Atlanta Decorative Arts Center