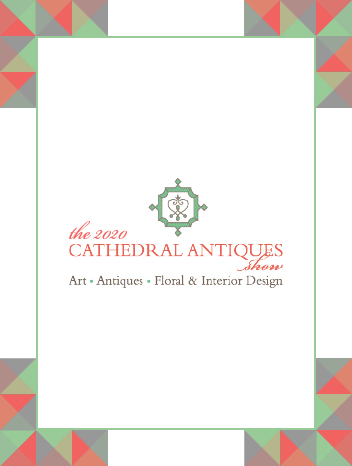 2021 Cathedral Antiques Show
Jan 21—23, 2021

Sponsored by ADAC
This year marks the 50th anniversary of the Cathedral Antiques Show, an annual festival of art, antiques, floral, and interior design, where quality and variety reign supreme. Delight in discovering authenticated period furniture, an array of unique items, fine art, porcelain, silver, and fine estate jewelry from favorite dealers and exciting new sources. This year, the Show is going virtual, offering their signature Preview Party, Flower Festival, Tour of Homes, and a Silent Auction all from the comfort of your own home. Guests from around the world can join together to explore the beauty of antiques, architecture, art, florals, lifestyle, entertaining and design from world-renowned experts Alex Hitz, Lisa Fine, Frances Schultz, Richard Keith Langham, Shane Connolly, Hitomi Gilliam, and Christin Geall. The Show also features exclusive virtual access to three homes to tour, each narrated by the home's architects and designers: Norman Askins, Casey Kessee, Tim Adams, Caroline Rolader, and Nancy Izlar.
Virtual Silent Auction | Sunday, January 17 – Sunday, January 24
This year, we are excited to offer an online auction of carefully selected items and thoughtfully put together packages provided by our generous donors, including beautiful vacation homes, lifestyle, entertainment and travel packages. Registration required for bidding, see tickets to participate
​
Virtual Antiques Show | Thursday, January 21 – Saturday, January 23
​Dealers from around the country will be presented to you in a virtual format designed exclusively for our Cathedral Antiques Show. We will showcase their unique antiques, fine art, silver, rugs, jewelry and more. Dealers open daily. Ticket Required: $10 for three-day access
​
Verbal Appraisals | Thursday, January 21 | 1 – 4 PM
Available in person and by appointment at the Cathedral of St. Philip, our talented team of appraisers will be happy to evaluate your items.  Appointments can be scheduled through our ticket tab. Ticket Required: $10 per item
Since its inception in 1969, the show has raised more than $5.4 million for Atlanta-area nonprofits.  In 2021, all proceeds benefit City of Refuge. To find out more about the beneficiary: https://cityofrefugeatl.org/
The Chair of the 2021 Show is Anne Matthews, and Caroline Wallace is their Co-Chair, with our Honorary Chairs, Sam and Boog Candler and Honorary Architectural and Design Chair, Norman Askins.
Virutal