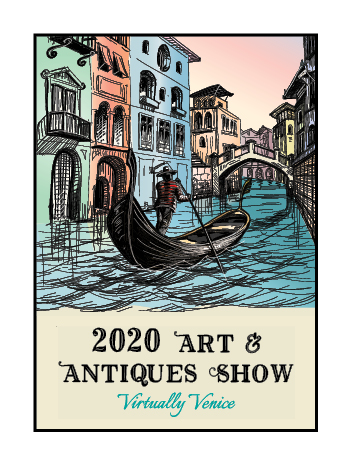 2020 Virtual Venice Art & Antiques Show | Jacksonville
Dec 4—10, 2020

Presented by The Women's Board of Wolfson Children's Hospital
Sponsored by ADAC
For 47 years, hundreds of volunteers have tirelessly lent their time and talents to producing the annual Art & Antiques Show, a massive undertaking for an incredible cause.
The 1976 Wolfson Boehm Exhibit was the first Women's Board event to raise funds for Wolfson Children's Hospital, which was followed by the winter Antiques Show. Now called the Art & Antiques Show, this four-day show and sale, annually produced by The Women's Board, which each year has a new and innovative theme, hosts between 1200 and 1400 patrons and guests.
The weekend includes iconic lecturers, such as celebrities, designers, architects, and party planners, renowned antique dealers from around the country, and the much-loved Children's Fashion Show featuring current and former Wolfson patients.
The 2020 Virtual Venice Art & Antiques Show is going to be like no other. Join us for a virtual trip to Venice and all of the adventures possible with such an amazing expedition. Enjoy a glimpse of Venice and more on this 2-day virtual adventure. Available from Jacksonville to Venice and all places in between on your computer or mobile device.