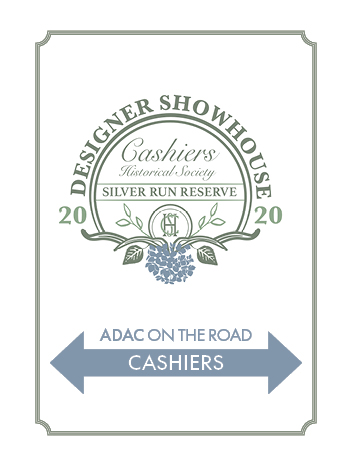 2020 Cashiers Designer Virtual Showhouse
Aug 24, 2020—Sep 30, 2020

Presented by Cashiers Historical Society and Atlanta Homes & Lifestyles
Sponsored by ADAC    
Sprawling across nearly 300 acres of natural beauty and adjoining the Nantahala National Forest, lies Silver Run Reserve, the location of the 23rd Annual Cashiers Designer Showhouse (CDS). Silver Run was originally assembled by the civic-minded Neely family as a private family estate nearly 40 years ago. Located within the prestigious southern corridor of Cashiers, Silver Run is in the midst of a revival as it is being transformed into a private, low-density, wonderfully amenitized mountain community.
The 2020 Showhouse is a 3,000-square-foot Mountain Modern Cottage, custom-designed by the renowned Meyer Greeson Paullin Benson firm and built by Cashiers' own Harris Custom Builders. With beautiful mountain and wooded views, and close to the center of the community and The Lodge, the Showhouse is surrounded by tranquility and beauty. Leading local, regional, and national interior designers will grace one of Cashiers' most storied properties with a collective aesthetic vision for a once-in-a-lifetime Showhouse.
The daily ticketed portion of the Showhouse will be fabulously virtual for $25 per ticket. Enjoy the beauty of the Showhouse with the added safety and comfort of your own home. Virtual tickets will be available to purchase online the week of August 24 and through September 5. A virtual ticket includes:​
A comprehensive video tour of the Showhouse and Silver Run Reserve
Exclusive access to view and shop designer furnishings, art, and vendor offerings
​​
Pre-sale access to our May 28, 2021 party honoring our 2020 supporters and celebrating all things design with celebrity southern chefs
​​​​
If you already purchased an advanced daily ticket, you will automatically receive a virtual ticket when we go live the week of August 24. Please email for ticketing questions or concerns.
​​
Please consider purchasing a virtual ticket! Daily Showhouse ticketing is the largest revenue-generating portion of the Showhouse. By purchasing a virtual ticket, you will make a significant impact in helping to ensure CHS can continue to operate and offer vibrant programming to the Cashiers community. Plus, the stunning rooms, home, and property is a truly must-see experience!
Cashiers, North Carolina