Welcome to
ADAC
THE PREEMINENT DESIGN CENTER OF THE SOUTHEAST FOR RESIDENTIAL AND CONTRACT FURNISHING, ADAC was built over 50 years ago by renowned architect and developer John Portman.
The ADAC campus consists of 550,000 square feet with 60 showrooms offering 1,200 of the industry's finest product lines including furniture, fabric, rugs, lighting, accessories, floor and wall coverings, antiques, fine art and framing, kitchens, bath, tile and stone, and home theater product. Likewise, ADAC's extensive services include custom designs such as framing, electronic systems, faux-finishing, and draperies.
Conveniently located in prestigious Buckhead, ADAC is both a national and regional one-stop shopping resource for interior designers, architects, specifiers, and builders. In addition, signature industry presentations, celebrity and media events, educational programs and networking opportunities held throughout the year make ADAC truly a one-of-a-kind, design destination. (Please click here for UPCOMING EVENTS)
We invite you to explore what's new and what's now in the world of design. Be at the center of it all.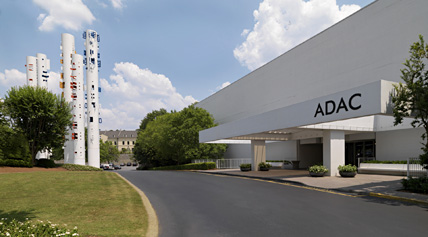 PARKING
Free street level and underground parking is provided to all ADAC visitors.
THE HUNGRY PEACH CAFE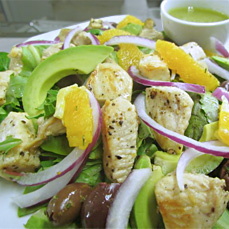 The Hungry Peach offers delicious breakfast and lunch fare in a cozy and lively cafe setting. Hand-crafted sandwiches, fresh salads, and new takes on Southern classics make this the perfect gathering spot for designers and clients alike. Catering services are also available. Please call 404.816.9009 or visit www.thehungrypeach.com for more information. The Hungry Peach Cafe is open Monday—Friday, 11:00 a.m. - 2:30 p.m.
KR STEAKBAR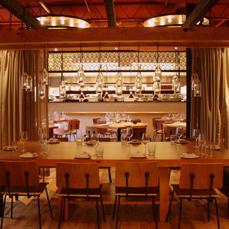 KR SteakBar, located at ADAC West | Suite D2, is the newest restaurant created by chef Kevin Rathbun and is the perfect place to end a day of shopping at ADAC. Enjoy the progressive menu of Italian fare with an emphasis on Prime steaks, and a drink from the full line of hand-crafted cocktails and boutique wines in the inviting bar area or dining room. Please call 404.841.8820 or visit www.krsteakbar.com for more information. KR SteakBar opens every day at 5:30 PM.
THE DESIGNERS' LOUNGE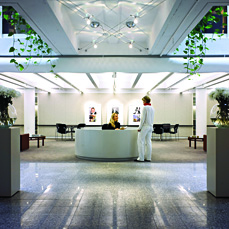 The Designers' Lounge is available for individual designer use, designer/client meetings and other smaller gatherings. The Lounge is conveniently located on the first floor of the main ADAC building. The private conference room inside the Lounge must be reserved in advance through the Lounge receptionist. Please call 404.231.1720 to reserve.
FAQS?
Frequently asked questions:
What hours are you open?
Monday through Friday, 9:00 a.m. to 5:00 p.m.
Can you refer me to a Designer?
American Society of Interior Design (ASID)
404-231-3938

International Interior Design Association (IIDA)
404-812-0566

International Furniture Design Association (IFDA)
404-324-7019
What is ADAC's admittance policy?
ADAC is open to all interior designers, architects, trade professionals and design enthusiasts. Credentials are not required. We request that all guests stop at the registration desk inside the main ADAC entrance to receive a badge which should be worn at all times while in the Center.
How do I obtain an ADAC Directory?
Annual ADAC Directories are available to all design professionals and enthusiasts at the front desk and/or can be mailed upon request. The Directory also exists in its entirety on our website under Showrooms.
How do I sign up for ADAC events?
You can register on this website under Current Events or by calling the ADAC Management office at 404-231-1720. A complete listing of our exciting event line up can be found on this website under ADAC Events.
How do I become a part of ADAC's mailing list?
Please fill out the form under Contact ADAC or call the ADAC Management Office at 404-231-1720.
Are the showrooms open every day during regular business hours or just during markets?
ADAC showrooms are permanent and are open for business Monday through Friday, 9:00 a.m. to 5:00 p.m. The Center is closed the following holidays:
New Year's Day
Memorial Day
Independence Day
Labor Day
Thanksgiving Day
Day After Thanksgiving Day
Christmas Day
Does ADAC makes travel arrangements for out of town guests?
Click here for a quick reference guide to help you plan your next trip to ADAC. It contains preferred hotels, restaurants, retailers and services. If you have further questions, you may contact our travel concierge at info@adacatlanta.com or by calling 404.231.1720.
What is your fax number, address and Email address?
Email Address:
info@adacatlanta.com

ADAC MANAGEMENT OFFICE:
351 Peachtree Hills Ave, N.E
Suite 423
Atlanta, Georgia 30305

ADAC ADDRESS:
351 Peachtree Hills Avenue, N.E.
Atlanta, Georgia 30305

ADAC WEST ADDRESS:
349 Peachtree Hills Avenue, N.E.
Atlanta, Georgia 30305