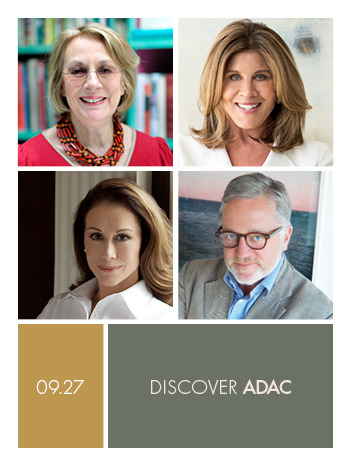 THE POWER OF STYLE
Sep 27, 2018
10:00 am
Sponsored by VERANDA
Join celebrated tastemakers Nina Campbell, Suzanne Kasler, and Carolyne Roehm for an engaging, enlightening, and entertaining chat with VERANDA Editor in Chief, Clinton Smith. Known for their authentic voices and a passion for timeless design, this lauded group offers a peek into their private worlds — from their storied careers to what's next on the horizon. Each is known for transcending the world of interior design with a 360-degree focus on lifestyle, which incorporates product design, garden design and outdoor living, elegant entertaining, book publishing, and even fashion design. Join us for this master class on All Things Style.
ADAC Presentation Room, First Floor Atrium
Following the presentation, stock your design library as Osborne & Little presents a special book launch and signing reception at Ainsworth-Noah & Associates honoring the debut of each panelist's and Clinton Smith's newest books. This is also an excellent opportunity to view the just launched Autumn 2018 collections from Nina Campbell, Osborne & Little and their entire family of brands.
Ainsworth-Noah & Associates  | Suite 518