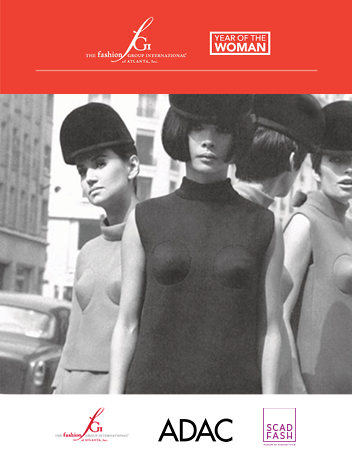 Drinks and Design at SCAD FASH
Jul 19, 2018
6:00 pm—8:00 pm
Sponsored by Fashion Group International and ADAC
Join The Fashion Group International® of Atlanta, Inc. and ADAC at SCAD FASH for an evening of wine, hors d'oeuvres, and engaging conversations with creative colleagues from the worlds of fashion and design. This is an exclusive opportunity for you to enjoy private guided tours of two wonderful exhibits, the first, Pierre Cardin: Pursuit of the Future, and the second, Dressing for Dystopia: Costumes from "The Handmaid's Tale" by Ane Crabtree. Museum tours are available throughout the evening starting at 6:15 PM. Please RSVP by July 16.
Tickets:
Online | $20.00
Guests purchasing a SCAD FASH general level membership during the event will receive a $20.00 discount. 
Photography: Pierre Cardin, cocktail dresses with conical breasts, 1966. Photo © Archives Pierre Cardin.