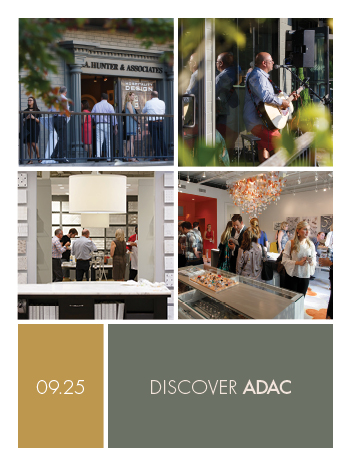 ADAC West Sip and Stroll: Endless Summer
Sep 25, 2018
5:30 pm
Sponsored by Atlanta Magazine's HOME and Atlanta Magazine
Celebrate Endless Summer at ADAC West's annual Sip and Stroll! Inspired by the stylish seaside towns of the French Riviera, this magical night of mixing and mingling brings together ADAC West's creative enclave of furniture and accessories showrooms, residential and commercial designers, architects, framers, manufacturers, and one fabulous restaurant. Atlanta Magazine's HOME and Atlanta Magazine are joining in the party with music and cocktails inspired by the iconic elegance of the Côte d'Azur.  Experience this fusion of diverse products and personalities that make ADAC West a singular design destination during an endless summer or any time of year.
ADAC West
Suite A1, JANUS et Cie
Suite A4, Rabaut Design Associates, Inc.
Suite A4, J MacFarlane Group
Suite A5, Wood-Mode
Suite A6, Peacock Alley
Suite A7, Electronic Home
Suite B4, C. Weaks Interiors
Suite B5A, Matthew Quinn Collection
Suite B6, Musso Design Group
Suite B6, The Jane Group
Suite C4, F.A. Hunter & Associates
Suite C4B, Brooks & Black Fine Framing