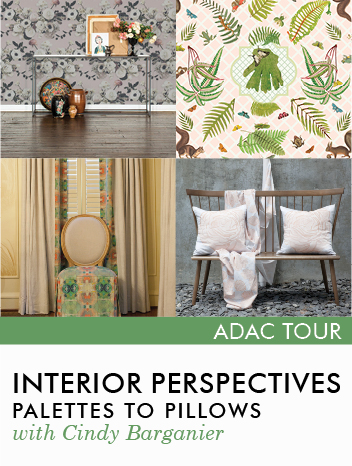 Interior Perspectives: a Tour of Palettes to Pillows with Cindy Barganier
Jan 26, 2017
10:00 am—12:00 pm
Sponsored by Trinity School's Spotlight on Art
Art adds soul to room and there are many creative ways to bring painterly style to your projects. Led by painter and interior designer, Cindy Barganier, this tour will give you an opportunity to meet four gifted artists whose works have been translated into successful textile lines. Get to know them, learn what inspires them, see how they transitioned from artist to fabric artisan, and share ideas for incorporating art into all of your interiors. In addition to Cindy Barganier, meet artists Steve McKenzie, Ashley Woodson Bailey, and Susan Carson.
Tour Includes:
• BRADLEY | Suite 133
• Martin Nash | Suite 308
• Travis & Company | Suite 128
Get to know Us:
Trinity School Spotlight on Art
ADAC is a proud sponsor of Trinity School's annual Spotlight on Art, a showcase of new, original works by well-known and emerging artists. This year, their annual Artists Market, running from January 30 – February 4, features original art by 350 artists in categories such as contemporary, realism, folk, whimsical, sculpture, pottery, jewelry, and garden. Open to the public with free parking and admission. www.spotlightonart.com.
ADAC Main Registration Desk, Third Floor
View Event Guide