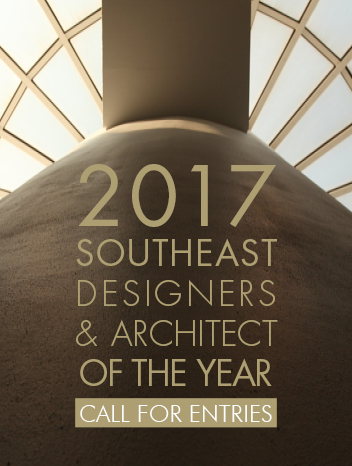 Call for Entries: 2017 Southeast Designers & Architect of the Year Awards
Dec 1, 2016—Mar 3, 2017

Sponsored by ADAC and VERANDA
TRADE ONLY
It is time to submit an electronic portfolio of your work into competition for the prestigious 2017 Southeast Designers & Architect of the Year awards. Each year, ADAC recognizes firms and individuals from across the southeast who exemplify the highest level of talent in the categories of Contract Interior Design, Residential Interior Design, and Architecture.
An esteemed panel of three judges will be responsible for the selection of finalists and winners in each of the three categories. Judges include a notable architect, an acclaimed interior designer and VERANDA's Editor-in-Chief, Clinton R. Smith.
Recognition of finalists and winners will coincide with ADAC's annual spring market week, DESIGN ADAC, co-sponsored by VERANDA, April 25 – 27. All finalists will be celebrated at a meet-and-greet reception at ADAC on the afternoon of Wednesday, April 26. Winners will be announced at a private awards gala on Thursday, April 27.
Submissions due on or before 5:00 PM EST, Friday, March 3, 2017