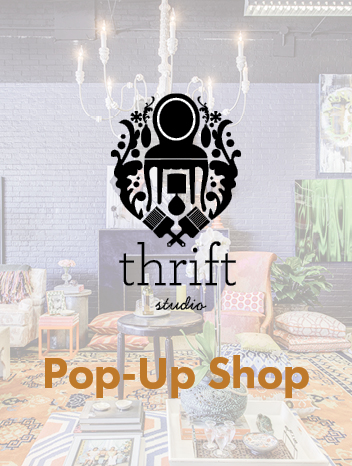 Thrift Studio Pop-Up Shop
Sep 30, 2016—Oct 29, 2016

Tuesday – Saturday; 10:00 AM – 5:30 PM
Dwell with Dignity's Thrift Studio event is a fundraiser like no other and we are thrilled to bring it to the Atlanta community! Thrift Studio is a 30-day pop-up shop created to provide financial viability and fundraising for Dwell with Dignity by selling furniture, housewares, accessories and high-end designer finds to the public. Since the concept launched in Dallas in 2011, the event has grown into a highly anticipated and can't-miss event for DwD supporters, the interior design community and the general public looking for a fabulous deal on home furnishings.
Thrift Studio provides one-third of the operating revenue that allows Dwell with Dignity to change lives through design by bringing good design to those who can afford it the least. In 2016 Dwell with Dignity will complete 22 projects providing fresh starts for 20 families and 2 community partners. Our approach of one household at a time allows us to be integral to breaking the cycle of poverty. We provide the stability, comfort and pride needed to change the course of the lives of the families we help. We cannot do that without the support of our largest fundraiser, Thrift Studio
September 30 – October 29, 2016; Tuesday – Saturday; 10:00 AM – 5:30 PM (Open to Public)
Read more about Dwell with Dignity at www.dwellwithdignity.org!
ADAC Event Space, Suite 403