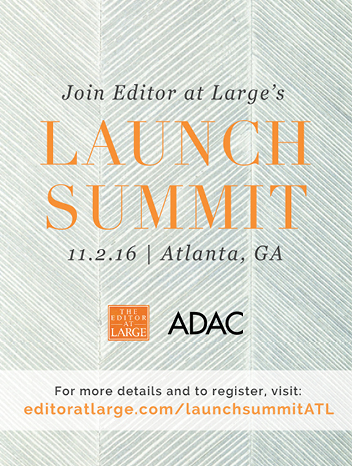 Editor at Large's LAUNCH Summit at ADAC
Nov 2, 2016
9:00 am—6:30 pm
TRADE ONLY
Sponsored by ADAC, Duralee, and Kravet
Editor at Large brings their wildly successful LAUNCH series to ADAC for a one-day intensive workshop created specifically for interior designers. After years of hosting courses in their home city of New York, Editor at Large has packed up their best of the best exclusively for ADAC. Learn from expert instructors about the most relevant business matters facing the design industry today, and take home essential insights and tools to further your own business. This program is ideal for professionals at every level.
Topics Include:
• Client Management and Charging Strategies
• Developing Airtight Contracts
• Selling Design: Pitching Clients and Closing Deals
• Creating an Authentic Brand
• Ins and Outs of Licensing
DOWNLOAD COURSE INFORMATON

REGISTER NOW
ADAC Presentation Room, First Floor Atrium
Get To Know Us:
Editor at Large is the daily media of record for the high-end residential interior design industry, and the voice of authority for design professionals. We provide timely and credible business news, information and resources to a dedicated readership of interior designers and home furnishings manufacturers. As the diverse, growing marketplace of high end home furnishings and design demands coverage, Editor at Large delivers with frequency and integrity.
David Adler, Principal at Adler Law Group

David M. Adler, Esq. is the principal attorney and driving force behind the Firm's Technology Practice Group with an extensive background and experience in corporate law, including contract interpretation, drafting, negotiation, and enforcement and intellectual property law.
James Burr, Co-Founder & CEO at YMEE

James Burr is an entrepreneur with a global perspective and curiosity. Fascinated with technology and design from an early age, he co-founded YMEE at age 21, which with the help of a remarkable team, grew to an award-winning creative agency with 40+ projects delivered across Fortune 500 companies, non-profit organizations and venture-backed technology startups.
Alex Honeysett, Brand + Marketing Strategist

Alex Honeysett teaches entrepreneurs how to promote and market their businesses, human-to-human. After spending nearly a decade working in communications for multimillion-dollar brands and startups in NYC and London, Alex knows what truly drives crazy conversations, sold out launches and New York Times interviews—and it's not mastering the marketing flavor of the week. It's how well you connect with the needs, fears and beliefs of the heart-beating humans you're trying to serve.
Alex has landed coverage in print and broadcast outlets around the world, including the Today Show, Wall Street Journal, Mashable, BBC, NPR, and CNN. Her own articles have been featured in the Daily Muse, Forbes, Inc., Mashable, DailyWorth, TIME and Newsweek. In addition to her extensive PR and marketing experience, Alex is a trained business and life coach.
Sean Low, Founder of The Business of Being Creative

Sean Low provides practical business advice to those in the business of being creative. Prior to starting The Business of Being Creative, he developed long-term consulting relationships with several creative businesses and was the President of Preston Bailey Design, Inc., representing Preston in all of his business endeavors throughout the world from September 2003 until July 2009. Sean Low has a law degree from the University of Pennsylvania and his business experience ranges from law, investment banking, financial executive to small business owner.
Kate Verner, Founder of Kate Verner + Associates

Kate Verner's design skills and business savvy have benefited clients like David Easton, Laura Kirar, Arteriors Home, and Rockwell Group. She studied at Parsons School of Design, helped to launch the iconic retail concept Moss, and blazed trails in licensing and brand extensions in all categories of home product.