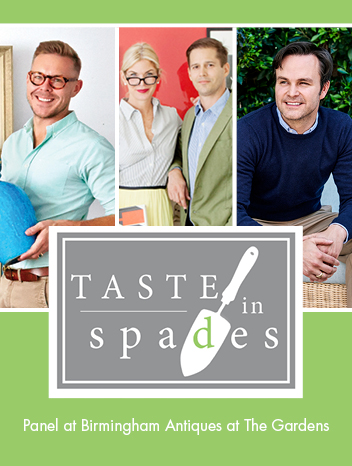 Taste in Spades Design Panel at Birmingham Antiques at The Gardens
Oct 8, 2016
11:30 am—4:08 pm
Sponsored by ADAC, Ainsworth-Noah, Edelman Leather, Jerry Pair, Paul +
From memorable interiors and delectable menus, to fashionable wardrobes and spaces thought-out with precision, the Taste in Spades panelists cultivate style in everything they touch. Enhance your trip to The Birmingham Antiques at The Gardens when you attend a panel discussion featuring the master mixer of vintage and modern, Eddie Ross; the laid back interior designer, fashion designer and author, Mark D. Sikes; and the extremely sought-after, full-service branding duo behind Pencil & Paper Co., Gen and Ben Sohr. This one-hour look at all things lively, creative and entertaining is moderated by Karen Carroll of flower magazine.
Tickets: $35 (Includes Lunch and Show Admission)
Doors Open at 11:30 AM CST
Birmingham Botanical Gardens
2612 Lane Park Road
Birmingham, Alabama
Get to know us:
Eddie Ross
Eddie Ross is the East Coast Editor of Better Homes & Gardens. He's worked as a design, decorating and food editor for House Beautiful, Martha Stewart Living, and the Food Network. Aside from being a trained chef, Eddie is a master of mixing vintage and modern designs to create memorable interiors.
Mark D. Sikes
Mark D. Sikes was born in Texas, and spent time in Nashville and Atlanta before setting on the West Coast. Mark's life experience brings a Southern sensibility to his style as seen in the laid back vibes of his current home. He stays busy as both an interior designer and a fashion designer, and his first book will be released soon.
Gen & Ben Sohr
Gen and Ben Sohr are the married team behind Pencil & Paper Co., a full-service branding company. They offer complete architectural services, custom home and renovation design, interior design and styling, retail design packages and branding, space planning, 3-D rendering, color, material, and finish selections, as well as "to-go" packages.