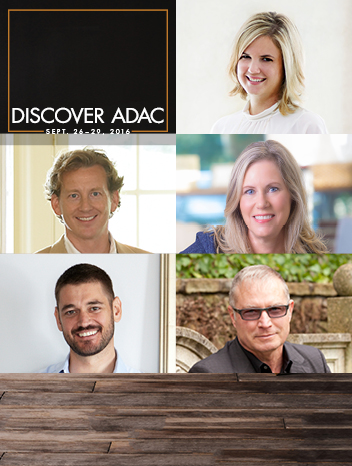 DISCOVER ADAC Step Outside! Creating Connections & Continuity between Interiors and Landscapes
Sep 29, 2016
3:34 pm
Sponsored by Atlanta Homes & Lifestyles
Well-designed, timeless residences are the result of cognitive overlap between architecture, landscapes, and interiors. Moderator, Elizabeth Ralls, Editor-in-Chief of Atlanta Homes & Lifestyles along with panelists including architect, D. Stanley Dixon; interior designer, Joni Vanderslice; furniture designer, Justin Van Breda; and landscape architect, John Howard, discuss why visual context is essential — and how to create continuity from the outside in.
Grizzel & Mann, Suite 120
Get To Know Us:
D. Stanley Dixon, D. Stanley Dixon Architect, Inc.

Stan Dixon, AIA, is the president and founder of his Atlanta-based firm, D. Stanley Dixon Architect, Inc. Raised in Sumner County, Tennessee, a region along the Cumberland River notable for its pastoral landscape and historic structures, Stan was inspired from a young age to study architecture. The simplicity of materials and authentic beauty of the houses, which originally compelled him to pursue architecture, continue to inform his design philosophy today.
Joni Vanderslice, ASID, J Banks Design

Joni Vanderslice, president and owner of J Banks Design, founded her multidiscipline design firm 30 years ago. Since then, she has nurtured the Hilton Head Island–based operation into an internationally recognized force in residential and resort design. Through the years, J Banks Design has received numerous awards under Joni's design direction. She has been honored as ADAC's Southeast Designer of the Year for both the residential and commercial sectors, and has also been named the ASID Dora Gray Designer of the Year. J Banks Design remains a fixture on Interior Design magazine's lists of "Top 200 Interior Design Giants" and "Top 75 Hospitality Design Giants."
Justin Van Breda, Justin Van Breda LONDON

Justin Van Breda is the founder of Justin Van Breda LONDON, a custom furniture, fabric, bath vanity and lighting line with stores in his native South Africa, Chelsea, London and represented in showrooms across the US in seven cities. Specializing in inlays of woods and metals the pieces have an informed and elegant and architecturally classic line. Justin Van Breda was the creative director for Nicky Haslam before launching his own line in London in 2002.
John Howard, Howard Design Studio

Howard Design Studio, LLC designs outdoor living spaces that are rich in detail, classic in form and opulently individual. Inspired by exemplary gardens throughout the world, the residential garden designs of John Howard and his associates uniquely reflect each client's personality and lifestyle. The firm's fresh approach to architectural detailing, site planning and planting design is highly attentive to architectural style and site considerations.
Elizabeth Ralls, Atlanta Homes & Lifestyles

Atlanta Homes & Lifestyles Editor-in-Chief Elizabeth Ralls is a 13-year magazine-industry veteran who has covered the shelter category in the Southeast since she began her career with Southern Accents magazine. The region's leading design publication since 1983, Atlanta Homes & Lifestyles is published monthly, and Elizabeth has been at its helm for the past three years, where she has spearheaded an overhaul of the magazine's website and digital platforms. Elizabeth debuted a new showhouse dedicated to exhibiting the work of the region's most accomplished design talents, the Southeastern Designer Showhouse & Gardens, which launched in Buckhead earlier this spring.
Known for a classic elegance that is approachable and consistently current, Grizzel & Mann offers furnishings sourced from around the world. Representing the finest manufacturers, Grizzel & Mann offers fabrics, wallcoverings, rugs and lighting. Ranging from traditional to contemporary, Grizzel & Mann's furniture collections are for both interiors and outdoors. Customization of our furnishings is a hallmark of Grizzel & Mann and offers the interior design trade complete flexibility with their creative processes.
Dedicated to showcasing the best in design and offering unmatched entrée into the city's most inspiring residences, Atlanta Homes & Lifestyles serves as a definitive guide to cultivating effortlessly elegant style. A longtime champion of the Atlanta design community, Atlanta Homes & Lifestyles' coverage of local design professionals, premier shops and showrooms, decorative and fine arts, restaurants and cultural events is second to none.