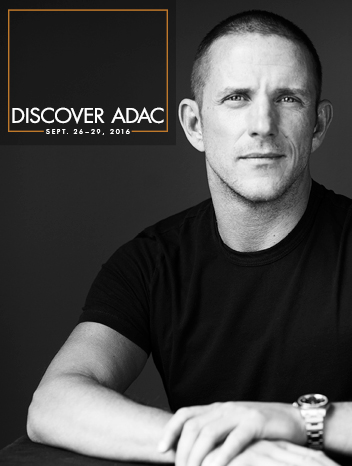 DISCOVER ADAC Breaking All The Rules Keynote Presentation Robert Stilin with Karen Elizabeth Marx
Sep 27, 2016
7:26 pm
Sponsored by ELLE DECOR
Karen Elizabeth Marx, Executive Director of Home Furnishings & Special Projects for ELLE DECOR, talks with world famous designer Robert Stilin about his firm's unorthodox and highly successful 25-year history in the industry. The New York-based designer, ELLE DECOR A-Lister, and member of Architectural Digest's AD100, shares secrets of his "no-holds-barred" approach to working collaboratively with his clients, curating their lifestyles, not simply their homes. Through Robert's examples, learn how to cultivate a broader spectrum of service for your own clients.
ADAC Presentation Room, First Floor Atrium
Liaigre hosts an exclusive meet-and-greet with Robert Stilin and Karen Elizabeth Marx.
Liaigre at Jerry Pair, Suite 508
Get To Know Us:
Robert Stilin was named one of ELLE DECOR's top 25 A-List Designer's in 2010, and each year subsequently. He was also was named to Architectural Digest's Top 100 designers for their January 2016 AD100 issue. He is known for effortlessly combining crisp, clean architecture with custom upholstery, antique and vintage furniture and modern and contemporary art to create casually elegant homes that are warm, comfortable and very livable. With over 25 years of experience running his own design firm, the New York and Hamptons based designer has built a solid reputation as a highly versatile interior designer whose classically modern work is custom tailored to the needs of each client and project.
Karen Elizabeth Marx is Executive Director of Home Furnishings & Special Projects for ELLE DECOR and the Hearst Design Group. Karen has been an integral representative of ELLE DECOR USA since 2000. She has worn many hats at the magazine both on the editorial and business end and helped guide its transition forward into the leading shelter publication in the US and global markets. She began her career in publishing in Dallas, Texas as the social and lifestyle editor at Papercity Magazine.
Over the past thirty years, LIAIGRE has become synonymous with refined, iconic designs and craftsmanship. Through use of space and light, basing design on local cultures and traditions, choice of materials and a special love of art and crafts, the combination of luxury and comfort embody the hallmarks of the brands signature and sought after aesthetic. LIAIGRE's design ethos are rooted in the philosophy that interior architecture and design are far from fashion and trends, but are timeless, achieved by calm beauty and subtle luxury. This uniqueness became more and more apparent and marked a distinct identity within the industry, one in which dreams and beauty are epitomized for even the most discerning of clients.
ELLE DECOR is where fashion and the home meet. For more than 25 years, the magazine has celebrated international tastemakers, trends, and talents. Part of a network of 26 international editions, the U.S. edition reaches an audience of 3 million who are inspired by the magazine's diverse mix of high-style interiors and up-to-the-minute reports on culture, cuisine, art, and travel. Follow @ELLEDECOR on Facebook, Instagram, Pinterest and Twitter.